Covid-19 Delivery maintained
Skateboard shop
Skateshop since 1997
+33 (0)4 67 49 39 32
Tuesday > saturday 10/12AM 2/7PM
Delivery within 3-4 working days for European countries
And international delivery by Colissimo with tracking
Secure payment
By 3D Secure system
Etnies Shoes Online-Shop
Regular price
€85.00
-€26.00
Price
€59.00
Regular price
€85.00
-€20.00
Price
€65.00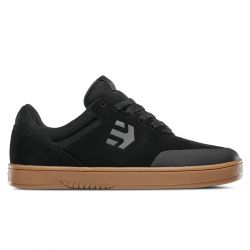 ---
Etnies Shoes
Etnies is an American footwear brand based in Lake Forest, California and owned by Sole Technology. She specializes in shoes and clothing for skateboarders, snowboarders, surfers and BMXeurs. The company was born in France in 1986, with the original name "Etnics", derived from the word "ethnic" and referring to the subculture of skateboarding at the time. The name was changed to "etnies" following court events. This company tries to use the least toxic materials possible for its products, particularly with regard to adhesives. In 1989, Pierre André Senizergues took firm Etnies dependents, making it the first company skateboard shoes belonging to a pro-skater. Etnies brand is considered the largest among those of Sole Technology. If its other brands, éS Footwear and Emerica are very focused on skate shoes, Etnies has a broader range, including shoes for children and even a line of shoes for girls (Etnies Girl). Etnies sponsors many athletes of extreme sports like skateboarding, snowboarding, surfing, BMX and Moto-X. Among these athletes include Perré Joseph, Ryan Sheckler, Arto Saari, Chris Malloy, Ryan Campbell, Jamie Bestwick, Eric Jackson, Jonas Luciano, ...
Skateboard team Etnies
Albert Nyberg, Axel Cruysberghs, Barney Page, Cairo Foster, Devine Calloway, Evelien Bouilliart, Ianire Elorriaga, Joe Gavin, Jose Rojo, Juergen Horrwarth, Julian Furones, Kristina Westad, Louisa Menke, Nick Garcia, Ryan Sheckler, Tyler Bledsoe and Willow.
Etnies Skate Shoes shop
Etnies skate | Etnies bmx | Etnies women | Etnies shoes men | Etnies UK | skate Etnies | Etnies shoes | skate shoes rising | Etnies skateboard | Etnies cheap | Etnies skateboarding shoes | Etnies sheckler shoes | Etnies shop | Etnies RVM | Etnies men | Etnies boy | Etnies kids | Etnies Footwear | action sports | Etnies apparel | Etnies Clothing | freestyle